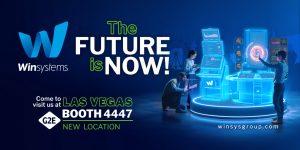 Malta, September 21, 2022 – Win Systems, the leading provider of technology for the gaming and entertainment industry, will attend G2E Las Vegas, on October 11, 12 and 13. The company will move to a larger and better located booth, #4447, where it will showcase its latest developments to elevate the casino operation and the player's experience.
WINUP Wallet represents a key development for the Systems Division and delivers significant advantages over most existing wallets, allowing for the easy management of the e-wallet and game balances.  WINUP Wallet allows casinos to offer many of its existing services to players, including the linking of online gaming products and profiles where available. WINUP Wallet is one of the most important developments for WIGOS in recent times, giving players the opportunity to access their casino in the palm of their hands.
The Gaming Division is also presenting important innovations. Following the fantastic reception of the Gold Club 25th Anniversary roulette across various global markets, the company has decided to bring it to G2E along with several other roulette models. Win Systems will also present significant innovations in its extensive library of games for slot machines, with spectacular new products that will be shown for the first time at the trade-show.
Eric Benchimol, CEO of Win Systems commented: "At Win Systems we are convinced that we are making an important qualitative leap in the products and services we offer to the operator. At G2E we will be presenting WINUP Wallet, a particularly relevant development for our WIGOS CMS, as it opens the door to the casino's omnichannel offering. We hope that all operators will come to know it and be surprised by the world of possibilities that WINUP offers them to improve the loyalty and experience of their players. Together with the powerful innovations in electronic roulette and new slot games, we believe we will enjoy a memorable G2E show."