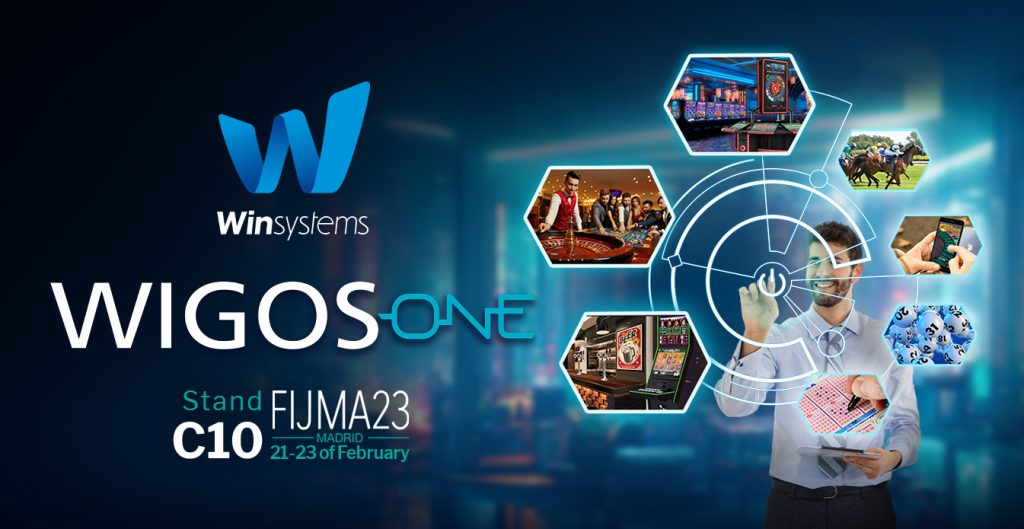 Barcelona, February 16, 2023 – Win Systems, a leading provider of technology for the gaming and entertainment industry, known for its WIGOS casino management system currently connecting over 100,000 slots in +380 casinos worldwide, has announced the launch of the latest WIGOS One version ahead of FIJMA in Madrid, February 21-23 (booth #C10).
WIGOS One is the only centralized system that allows controlling different business lines such as casinos of all sizes, arcades, route operations, and bingo halls, among others. It also permits data integration from other business lines as sports betting, online gaming, and lotteries. This product has been specifically designed and adapted to the Spanish market and represents a significant step forward versus the existing software for the Route and Arcade market.
WIGOS One also includes its powerful and innovative collection app, WIGOS Collect, which incorporates significant functionalities for operators, such as real-time access to counters, routes management and optimization, categorization of collection differences, management of withdrawals and replenishments of paying cashiers, and centralized cash management, to give a few examples.
Win Systems will also exhibit WINUP Wallet, a spectacular player app that easily allows managing player funds to connect to the machine and play. In addition, WINUP Wallet also permits the operators to provide existing player services through the app, such as access to the Players Club or other services offered by the operator such as machine reservation, food and beverage, etc.
The company will also show its new generation of InTouch displays, including the new InTouch Pro and InTouch 5 range, as well as its range of jackpots including its latest themed jackpot with its charismatic characters Pierre Goldfox and Lucy Mystery.
All these elements allow WIGOS One to offer everything that an operator needs to deliver the best player experience while managing different business lines efficiently, innovatively, and at a lower cost.
Eric Benchimol, CEO of Win Systems, explained: "The heavy growth we are experiencing in recent times drives us to continue developing better solutions to optimize the management of all types of businesses while maximizing the player experience. We look forward to welcoming all FIJMA visitors to our booth, willing to learn about WIGOS One and all the tools to improve the management of their venues. We are certain that WIGOS and WIGOS One have an incredible future ahead of them in Spain."