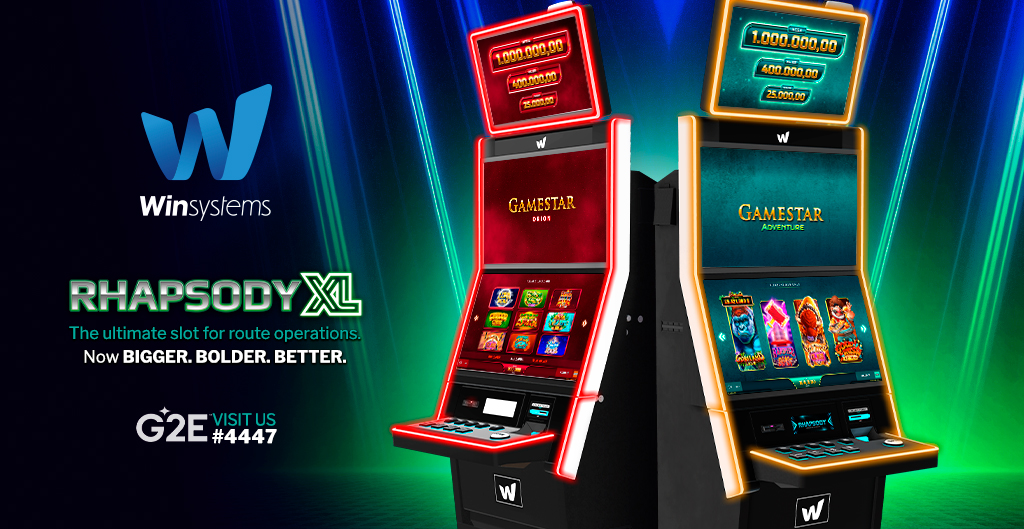 Miami, September 28, 2023 – Win Systems, the leading provider of technology for the gaming and entertainment industry, has announced the launch of its Rhapsody XL, which will be presented at the upcoming G2E on October 10th, 11th, and 12th at its booth #4447.
Rhapsody XL is the facelifted version of the Rhapsody slot, which is specially designed for route operations and small venues, thanks to its robust and attractive design. It stands out in this segment for offering new and powerful Full HD 27" screens delivering superior graphics, which will immerse players in a world full of excitement and entertainment. In addition, its optimized sound system ensures exceptional audio quality, elevating the gaming experience to higher levels.
But it does not stop there. This slot is also special because of its extensive games library. The operators will be able to choose from a wide variety of exciting titles as well as incredible multi-games, enabling them to suit any preference of their players.
Michael Lamers, Corporate Product Director – Gaming Division of Win Systems, commented: "We have been working hard this past year to bring several powerful new products to the show, and the launch of the Rhapsody XL is a clear example of this. For its development, we have focused on meeting the specific needs of route operations and limited spaces: attractive machines that catch the player's attention, but at the same time are robust and durable. We are looking forward to showcasing the new Rhapsody XL at our booth together with our other new products, both gaming and systems."